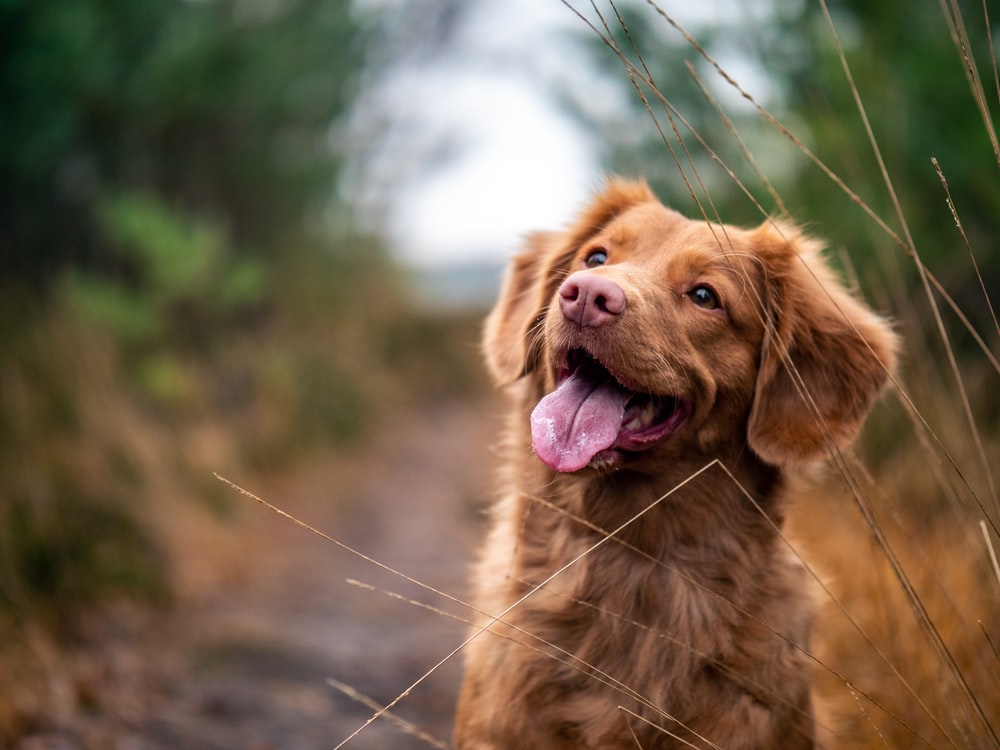 Many dog lovers have chosen a medium sized dog. They are not so small that you can take them in your arms, but they are also not so big that you would need a dolly for them if they went on a sit-down strike.
Since there are a lot of medium sized dog breeds, the choice can be quite difficult. Let's just take a look at a few to get an overview of the different breeds. Because somehow there is something for everyone.
Australian Shepherd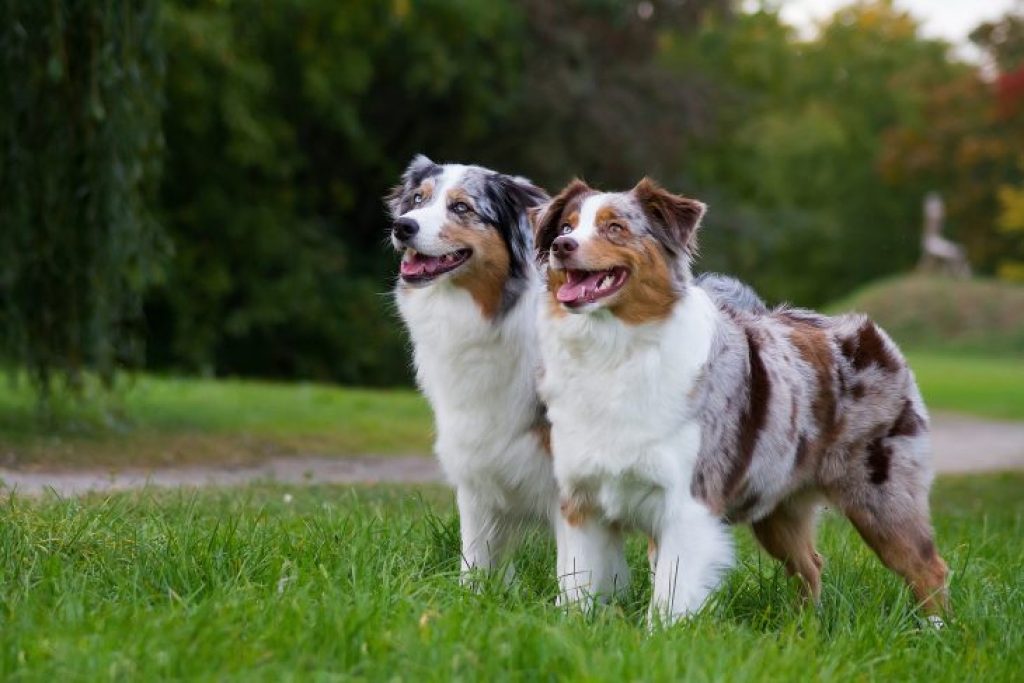 The Australian Shepard dog is 100% pure energy. He is a total workaholic. It is simply not possible to leave him without adequate task. Therefore, he is not really suitable as a pure family or companion dog. Surely he can do these tasks if he has done his daily quota of "work". However, if he does not get this done, he may exhibit strange behaviors.
Whoever chooses this dog must not only have the desire to toil with him outdoors every day. He must also be aware that there will never be any real peace with him. And yet, he is a fantastic companion that you do not want to miss once you get involved with him.
However, you should bring a certain dog sense with you. Because the Australian Shepherd is not only intelligent, but also demanding in his handling. Thinking ahead is a good gift for the dog owner.
Airedale Terrier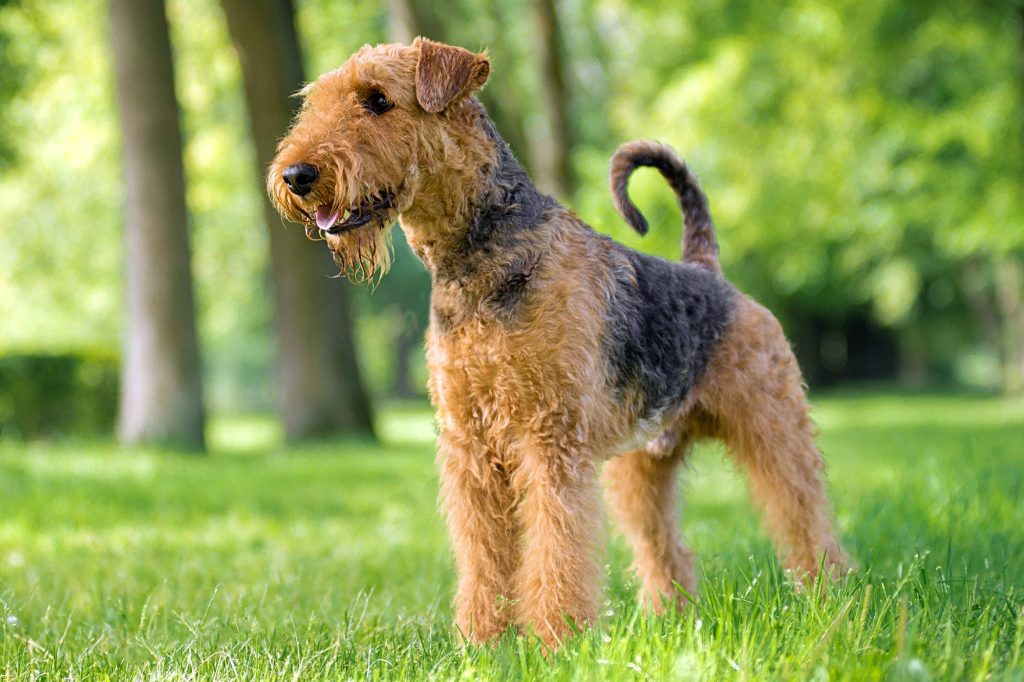 Perhaps you know this dog also under the term "king of the terriers". Everybody has seen him before. He is extremely loyal to his owner. Like all terriers, one has a certain toughness and a great tenacity. This can sometimes make it difficult to win his heart first.
However, strictly speaking, he is very cooperative and wants to please his owner as much as any other dog. There should be no hiding the fact that a certain hunting instinct just can't be gotten out of him. Therefore, there should be no small animals or cats in his home. Also, living with very small children could be difficult. Larger children, on the other hand, are not a problem.
As tough as he can be sometimes, he is also playful. Pulling and tugging games are his greatest and challenge him both physically and mentally. In general, attention must be paid to this balance. Certainly the Airdale will do well in a city apartment if he can get enough exercise. However, he finds a garden that he can guard absolutely fantastic.
American Pitbull Terrier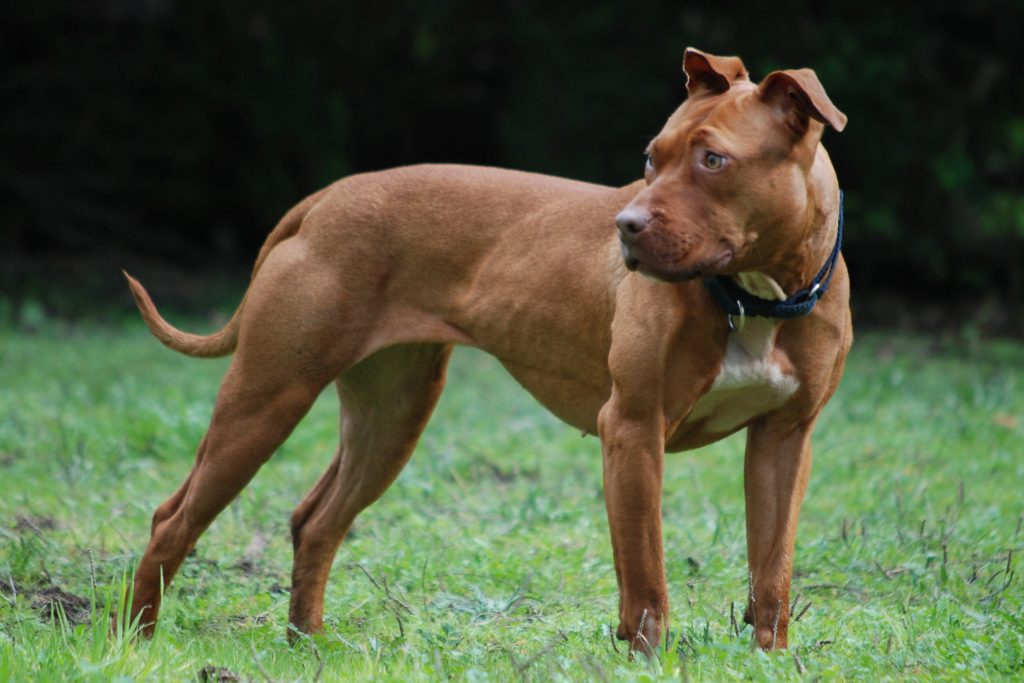 Although many people do not believe it, the American Pitbull Terrier is an obedient animal that brings not only intelligence, but also a certain amount of silliness. However, he prefers to occupy himself with children, playing and cuddling, rather than guarding the house and yard.
Provide consistent love in the upbringing and socialization, then nothing can really go wrong. And yet, caution is advised: Thanks to various unserious breeders and owners, the American Pitbull Terrier has been added to the list of dangerous dogs. Thus, it is necessary to inform yourself about the official requirements before buying this dog breed.
American Staffordshire Terrier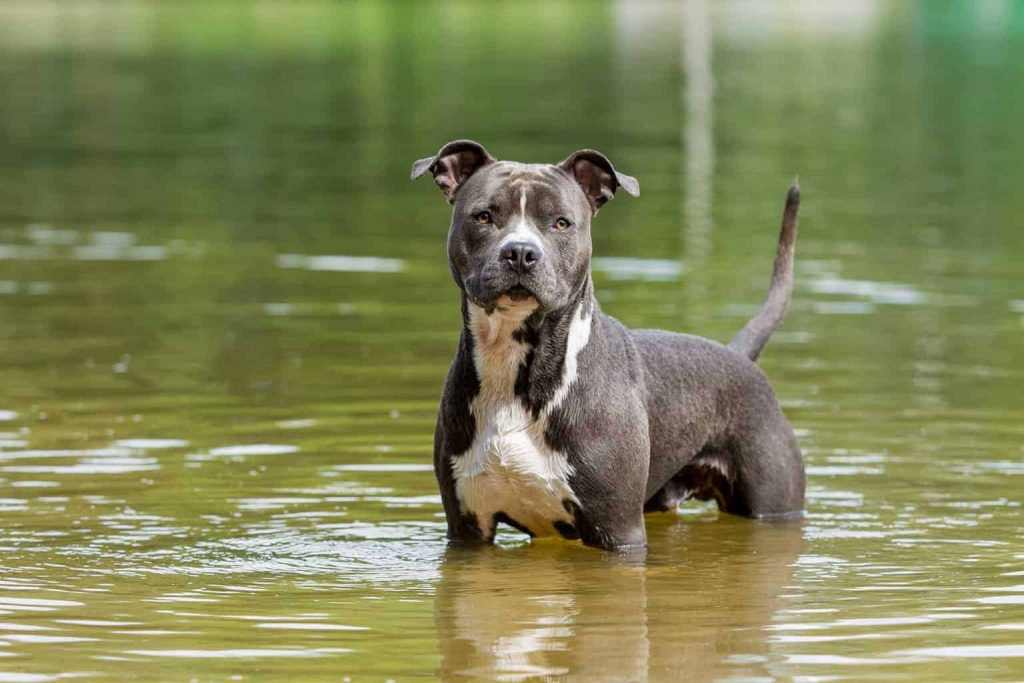 They have also made it to the list of dangerous dogs and are thus regionally placed with different requirements. If you still fall in love with this dog breed, it is important to buy a puppy from a reputable breeder.
Because the serious breeder has only dogs in the breeding, which have already passed a character test with flying colors. Likewise, they try to gradually push back the aggressive traits through selective mating.
But most of the education and socialization lies with the owner. Certainly dominance is necessary from the owner. But these dogs need a lot of love. That's why they like to be called fighting hacks.
If you want to get involved, you will be happily surprised by this dog – a great companion and family dog. And yet, you must always be on the ball and never stop the education.
Australian Cattle Dog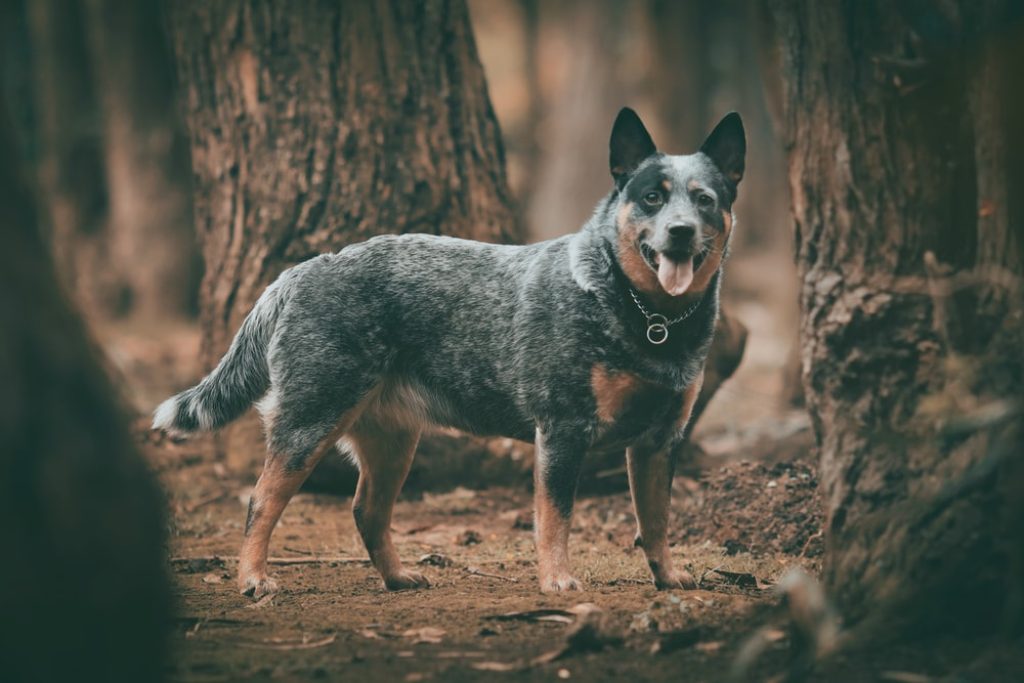 Sporty masters and mistresses listen up – Australian Cattle Dog is looking for! Whoever chooses this dog breed simply MUST present a very sporty side himself, otherwise he will not be able to do him justice. Somehow the A.C.D. is always looking for a task, for exercise, for employment.
Be prepared from the start and always have a plan B for this dog. Jogging, biking, and of course the various dog sports. Just see what works best for you.
But ATTENTION: It is not only protecting and driving the herd in his blood. There is also a kinship to the Australian Dingo, which gives him a certain indomitable quality. So it is not surprising that he needs a dominant and at the same time affectionate handler. Certainly he wants to please, but if the opportunity arises, he independently takes the lead. Point blank! He is not a family dog. He will definitely show this in case of doubt.
Basset Hound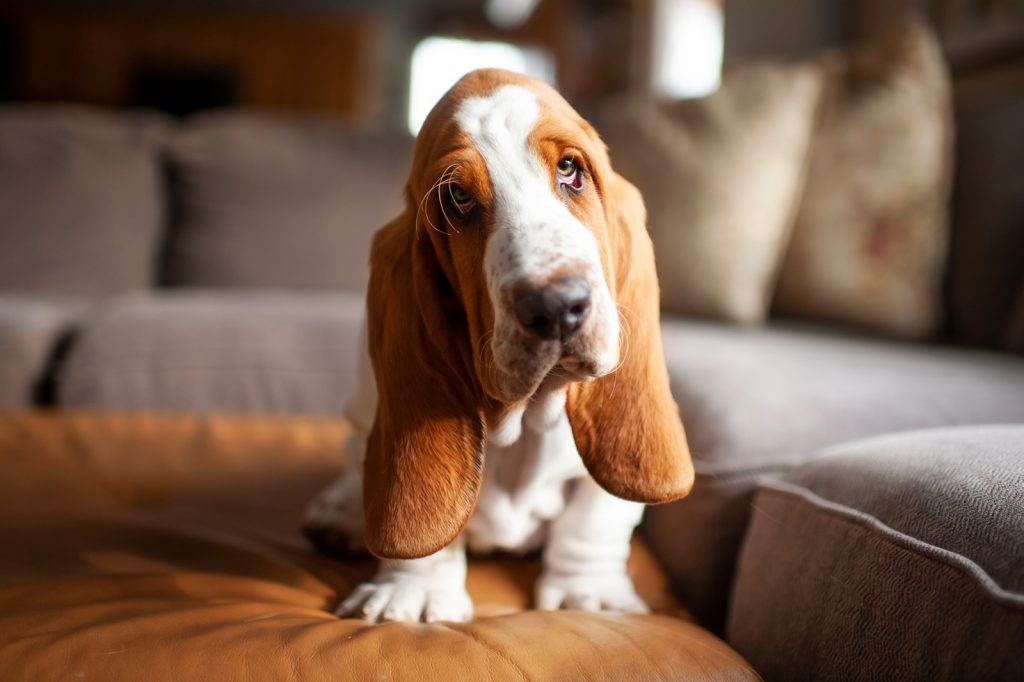 With the Basset Hound we find a dog that is actually underestimated by most people. This is because not everyone knows that he is actually a hunting dog. Certainly, today he is not used as often as it was once the case. Instead, we find him increasingly in families and as a companion dog.
Nevertheless, the hunting instinct is still quite strong in him, so you should not let him off the leash everywhere – no matter how well educated and socialized he is.
In return, he can become the best friend of children. Because he loves them and loves to play for his life. Also small animals and cats are no problem for him. But there is another problem with him – he hates to stay alone. Not only that he can then lapse into hours of barking and also a miserable yelp.
Also, household items are no longer really safe in such a case. Destruction can become an outlet for him. Even though he needs sufficient exercise and can show stamina, he doesn't care for dog sports. He prefers mantrailing.
Beagle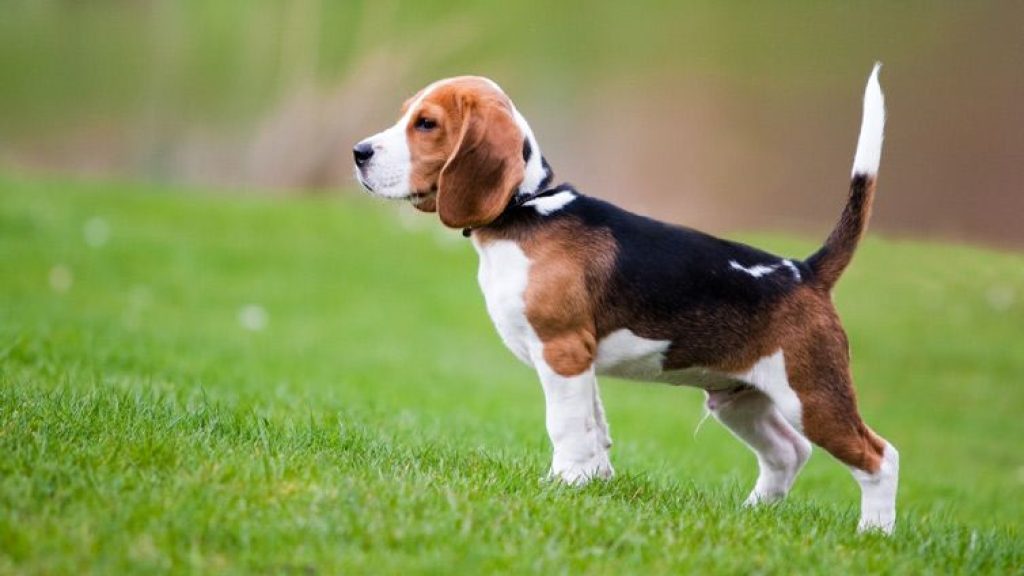 What was that again? The Beagle is absolutely resistant to training and socialization? Well, it is true that he prefers to impose his own head. But in return, he is very devoted to his people and good-natured beyond measure.
This dog is a wonderful, easy-to-care-for family dog, who is especially fond of babies and small children. Actually, you can not go wrong with the purchase of a Beagle.
Border Collie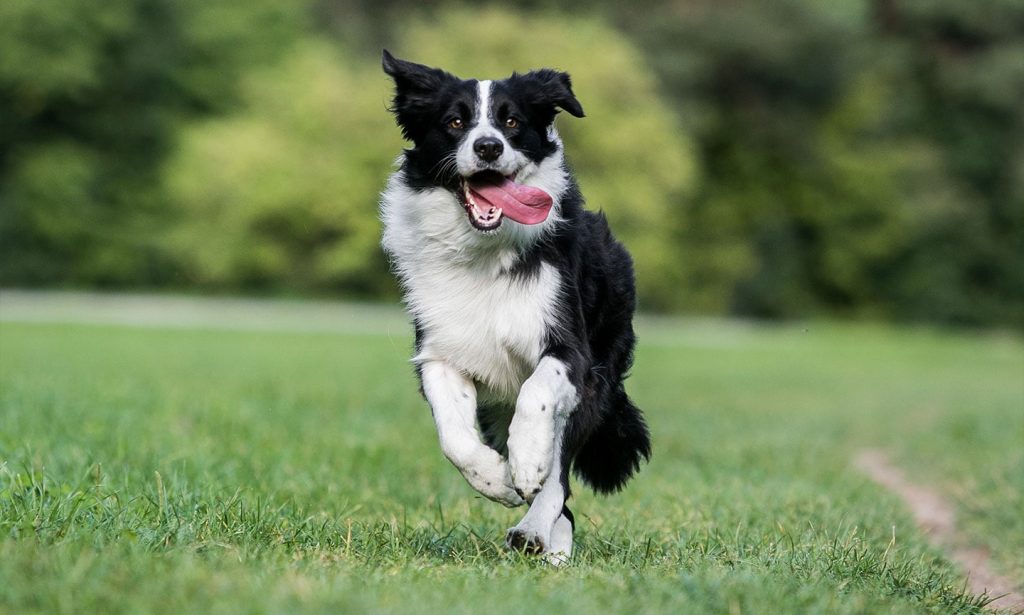 Yes, the Border Collie is a super buddy, a persistent sports companion who always needs a task. If this cannot be granted, he will find a task for himself. Perhaps herding bicyclists, joggers, or children on the playground. Something has to be done. The best thing would be to join an association with animals to herd.
Actually, the well-used Border Collie is a fantastic companion, with only one major quirk: the Border Collie can hardly resist savoring water, mud and slush. It is advisable to keep a water hose within easy reach at all times when outside the house.
Chow-Chow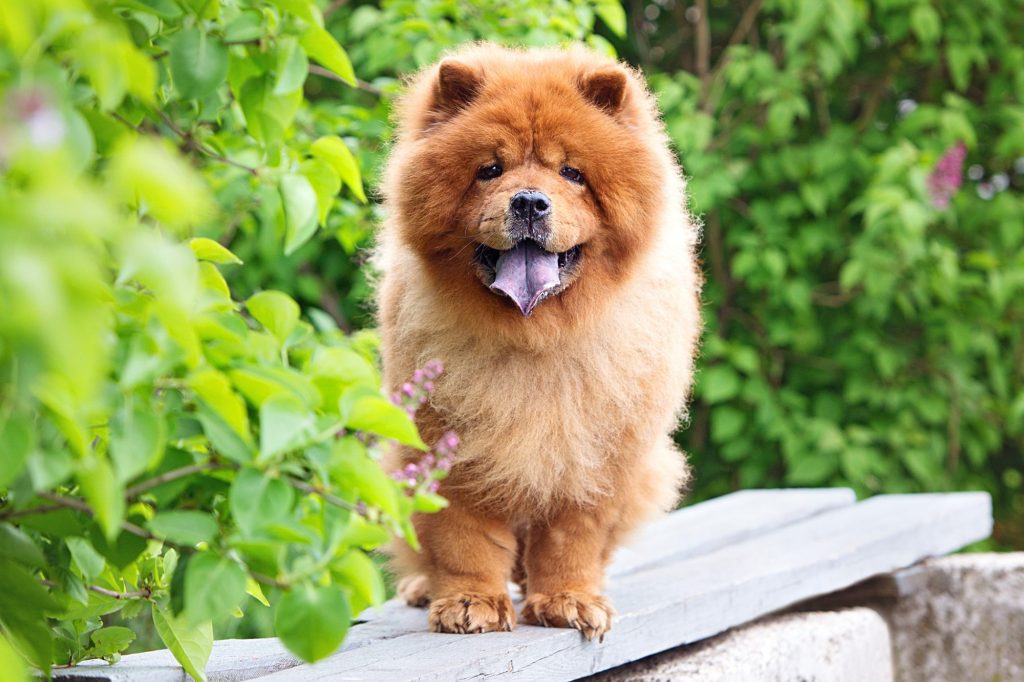 With the Chow-Chow we get to one of the oldest dog breeds in the world. And it definitely has recognition value. The bright coat, the lion-like collar and of course the blue tongue – once you have taken him to your heart, you will never let him go.
No one can escape his majestic, stoic calm. And he always shows this, because he loves seclusion. Playing is not important to him. The Chow-Chow is a stubborn dog who must know from the beginning who is the master in the house. Do not get involved in any games.
And be careful: his hunting instinct is still strong despite his supposed calmness.
German Pinscher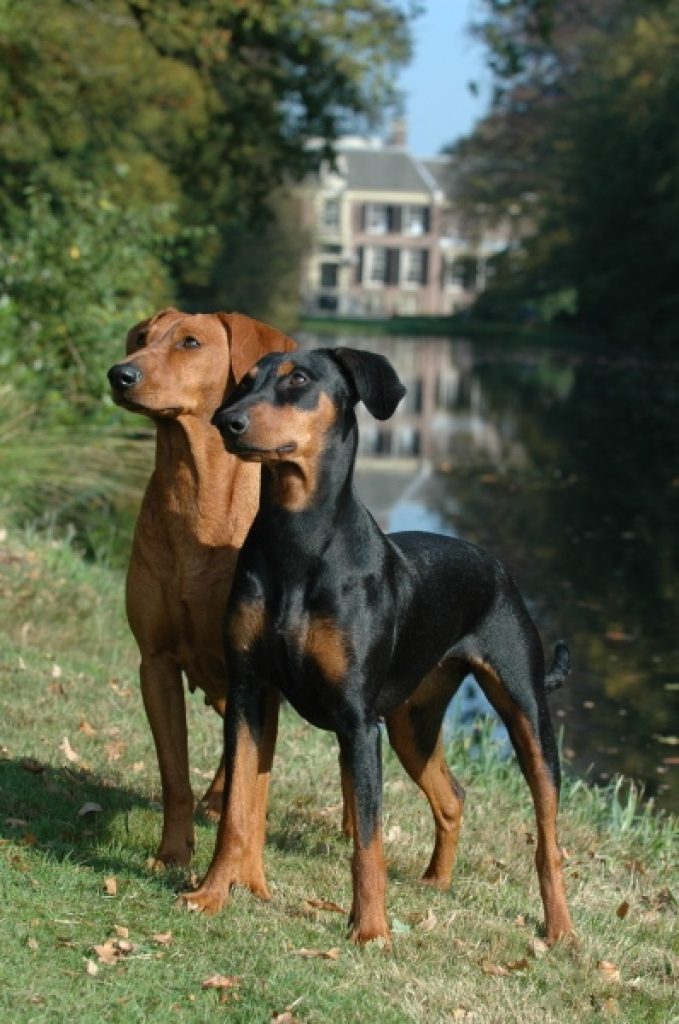 He is self-confident, but with a fairly low threshold for irritation. As a result, children in this household should already be older. He is the perfect "stable dog" and used to perform this job. Even today he is very popular among horse people, because he can accompany them in the best way.
Loyalty, liveliness and intelligence he combines in a unique way. Jokers like to ask once if one would have shrunk his Doberman when they meet the German Pinscher. And this is exactly the impression one could have. The parallels are definitely there.
Not only is he a great hunter, but he's also a super guard dog. Get yourself in the alpha position in time so you don't realize one day that it's actually the dog that's the boss. More about the Pinscher here.
English Cocker Spaniel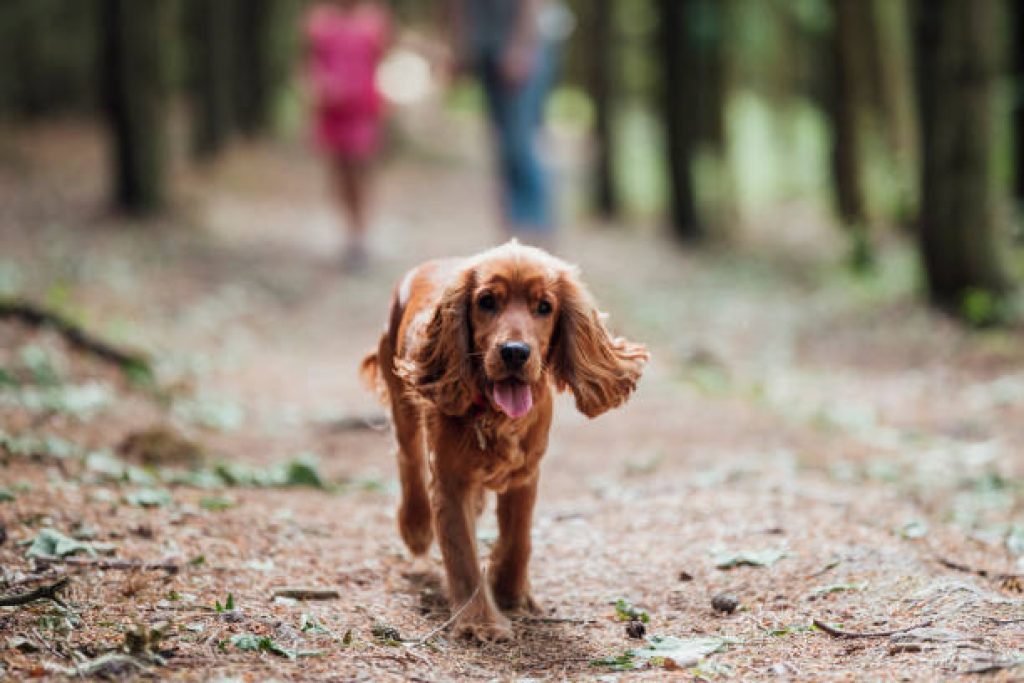 He can be stubborn, but also cheeky, cheerful and extremely loving and affectionate. He is one of the most popular dogs in UK. Despite his positive qualities, he sometimes feels obliged to bark.
He is intelligent and loves not only simple play. Give him a chance to prove his intelligence and endurance in dog sports. But it is also easier to do it by hiking with him or taking him on a bike ride. Be careful when you get near water with him. He just can't resist it.
Entlebucher Mountain Dog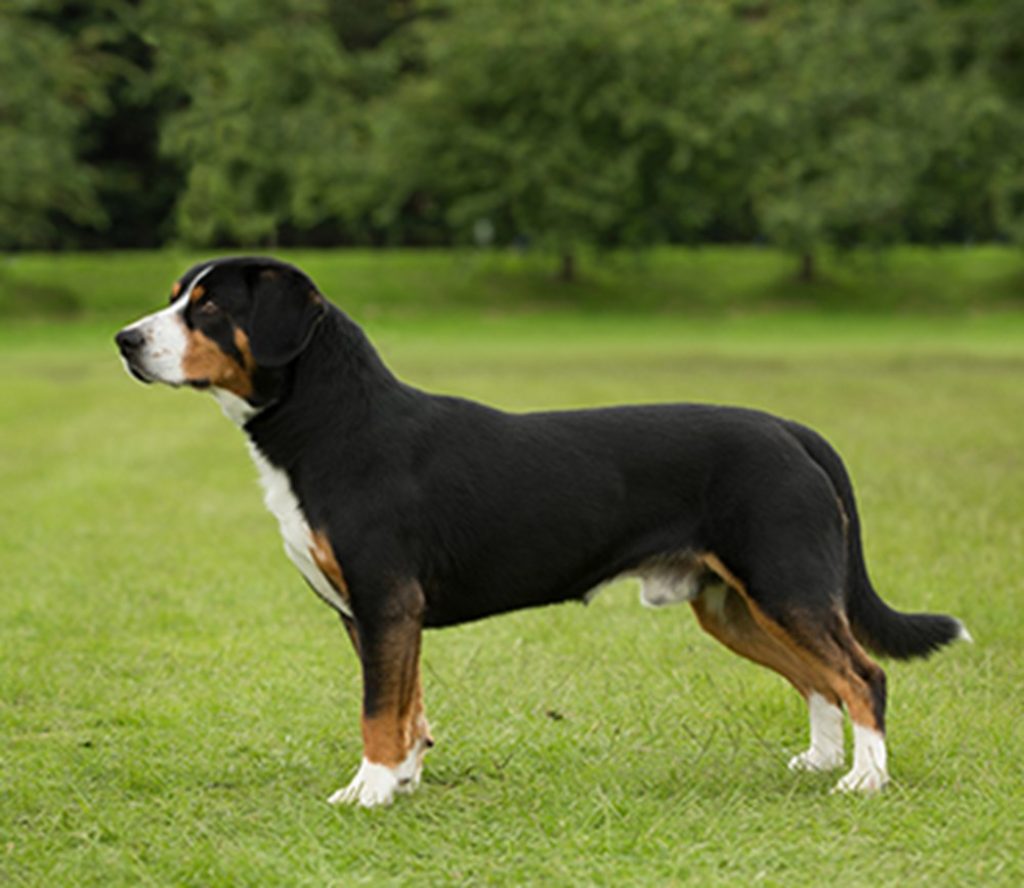 In total, we are dealing with four Swiss mountain dog breeds. The Entlebuch Mountain Dog is the smallest of them. He is a little powerhouse: lively, inquisitive, smart and also alert. Loyal, affectionate, good-natured and above all people-oriented, he is not only a fantastic family and watchdog. He can be trained very well as a rescue dog, protection dog and companion dog.
If you just want to keep him in the family, you would do well to find a task or dog sport for him. This dog loves to be allowed to live with a second dog of his breed together in his family. He also likes the company of other dogs. And in case of need, cats are his best friends.
Flat Coated Retriever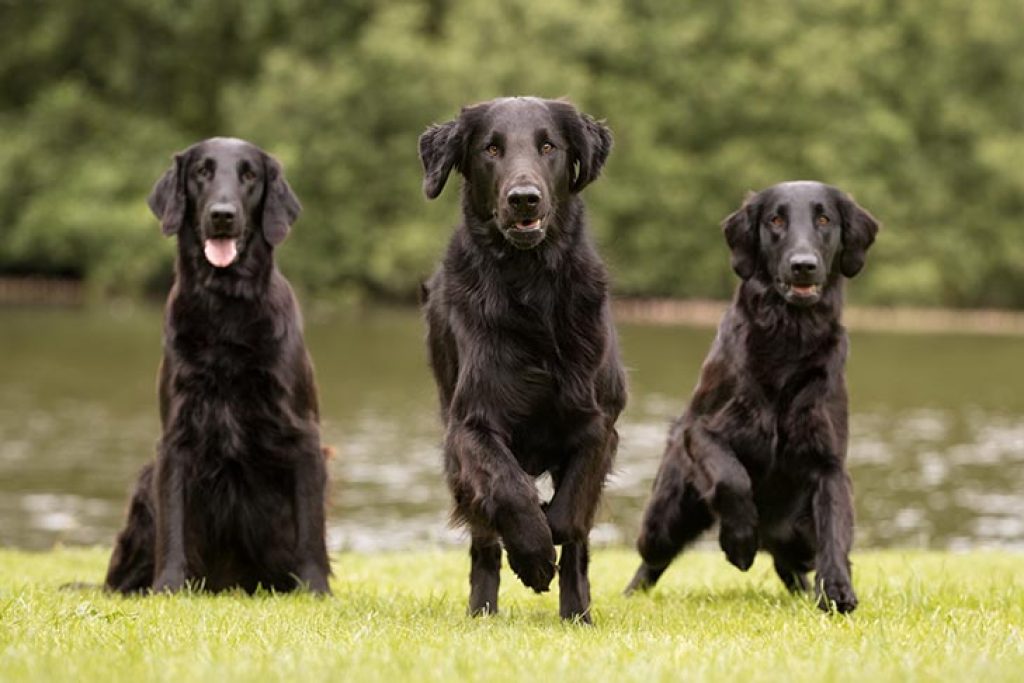 Which of his many qualities would you like to see in the foreground? Family friendliness, hunting instinct, a great, confident companion in any weather and the children's best friend – pick one of them. They are all coherent.
Not only for the family he is the perfect companion dog. He can also be trained very well as a dog for the disabled. Those who are looking for the loyal dog per se, should choose a dog of this breed.
Golden Retriever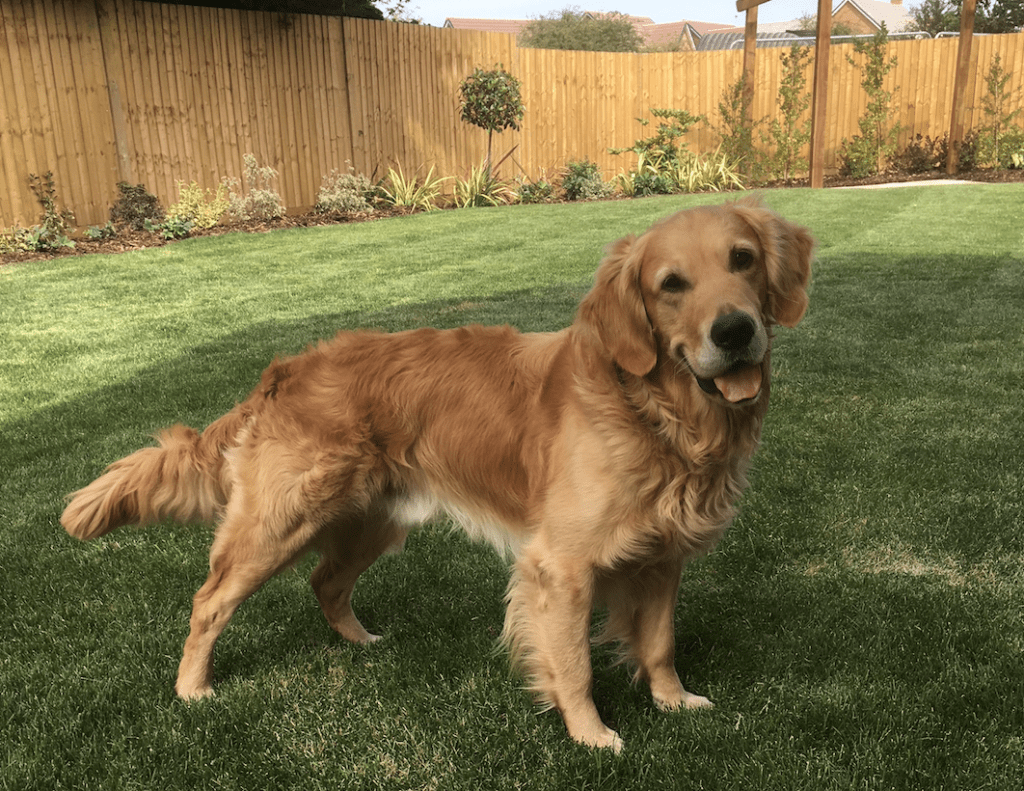 The Golden Retriever is one of the favorite family dogs in UK. No wonder, he is not only loyal and fond of children, but also the perfect dog for beginners. Actually, he belongs to the retrieving dogs. Maybe that's why he loves to play with his humans.
Also the dog sports are his playground. There he can really show what he can do. As friendly as the Golden Retriever may be, he has one big sticking point – he is terribly greedy! So watch his portions carefully, otherwise he will quickly become too fat.
Small Munsterlander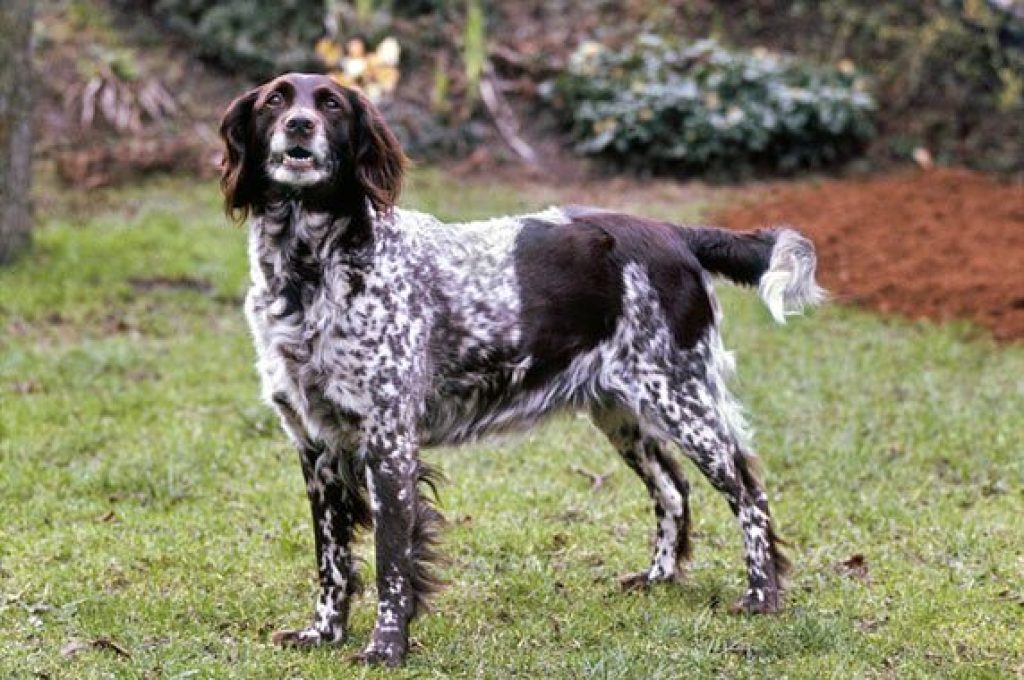 A very lively, affectionate dog who loves children and likes to be the center of attention in his family. Nevertheless, he can also like to retreat once in a while to keep an eye on his garden. However, he is a powerhouse so he needs quite a bit of exercise and action on a daily basis.
Whether on foot or on a bike, he can handle quite a few miles a day. Certainly, he still finds a large area of use in the hunting community. But he can do well without hunting, as long as he is sufficiently challenged and can get rid of all his energy.
Siberian Husky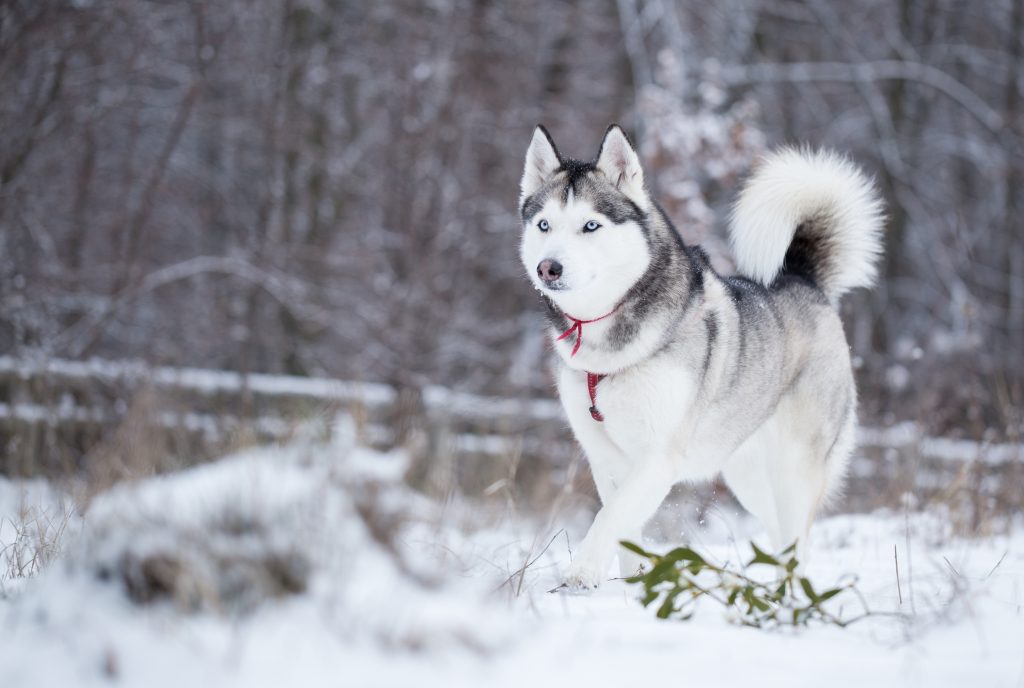 He is unmistakable. And if you have any doubts, look into his blue eyes and you will be blown away! This dog not only captivates his fans. There is only one thing that few really interested people pay attention to: This dog needs a LOT of exercise. Who is not able to give him a daily run of at least 20 kilometers, should leave the fingers of him!
Also, in regions where it gets very hot in the summer, you should consider offering a home to this great, loyal and confident dog. The Siberian Husky is an insanely loyal family dog to whom the pack means everything. Therefore, he should not be left alone often and certainly not for long.
Staffordshire Bull Terrier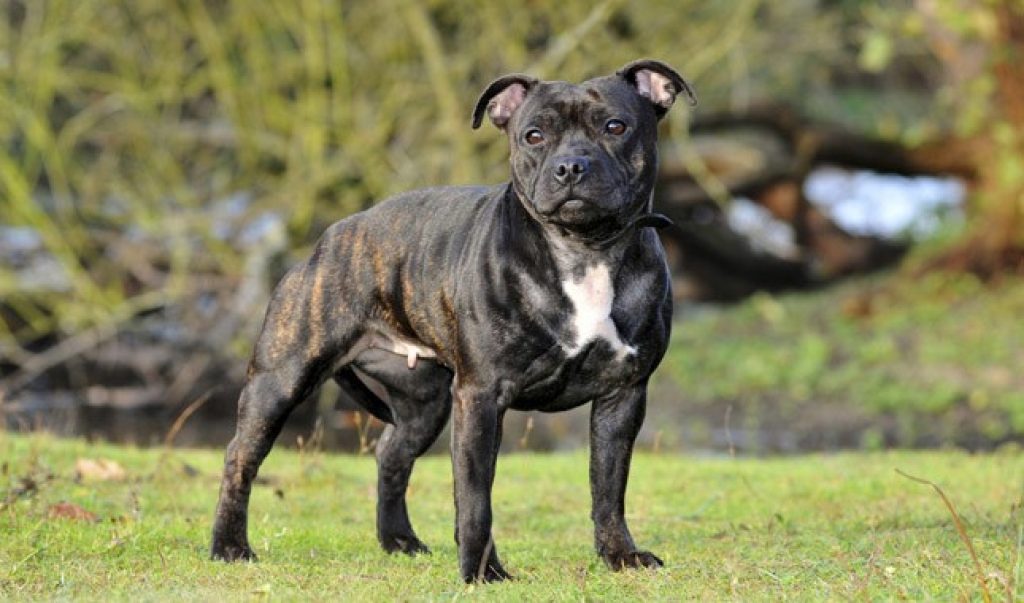 With English roots, he has a long tradition as a family dog. He needs a loving but energetic upbringing. Since he is very loyal to his people, the owner must succeed in keeping the dog in the right, social line, which can sometimes be difficult due to his stubbornness.
The key here is to persevere. The successes result in a dog that will do anything for his family, except one thing – stay alone. But listen up: this dog, despite its positive qualities, belongs to the so-called list dogs. Inform yourself in time about the official requirements.
Welsh Terrier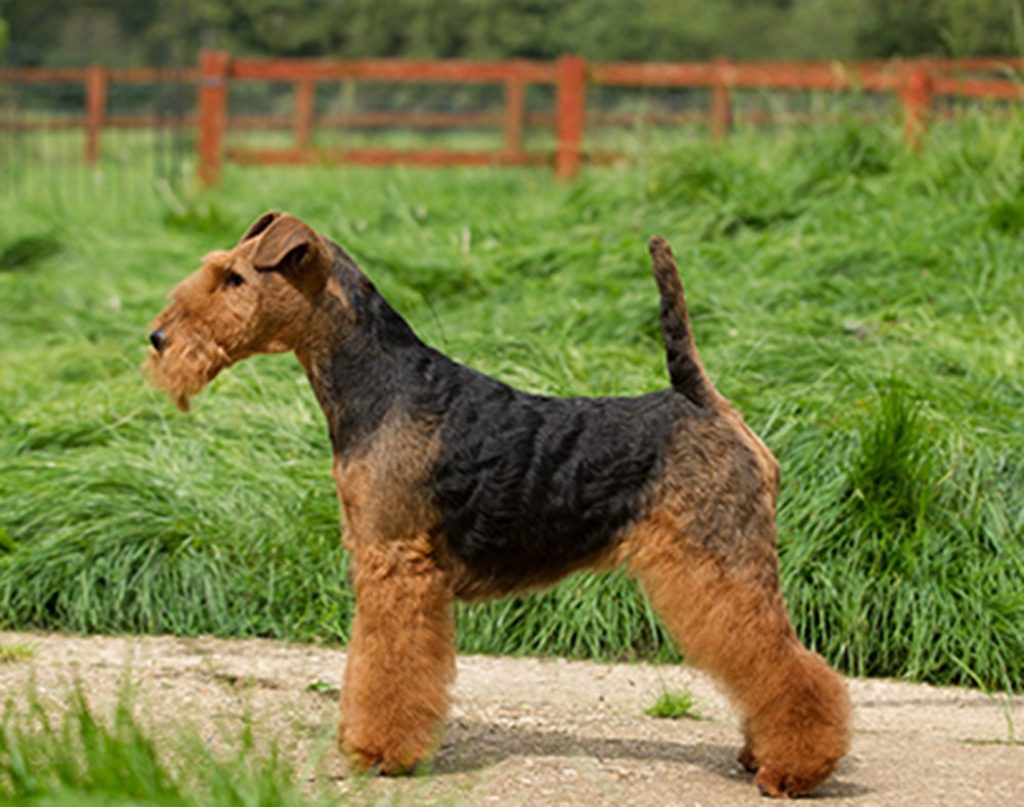 Are you good on your feet, maybe even an avid jogger? Then this dog is just right for you, because he usually has a super condition and an enormous endurance. Thus, he is the best companion for you that you can wish for your training sessions.
But you better leave him on the leash. Because actually he was bred for hunting. In recent decades, however, he is increasingly used only as a companion and family dog.
The Welsh Terrier has a long history. As popular as he still is today, the owner should have enough time for him to satisfy his urge to move. He is very intelligent, so he loves to learn tricks and other lessons of dog sports.
This dog loves his people so much that he guards and protects them wherever he can. When in doubt, he will protect them with all his resources. For him, a loving yet consistent upbringing is necessary. Otherwise his independence often cannot be kept in check. A watchful sunshine!
Wolfsspitz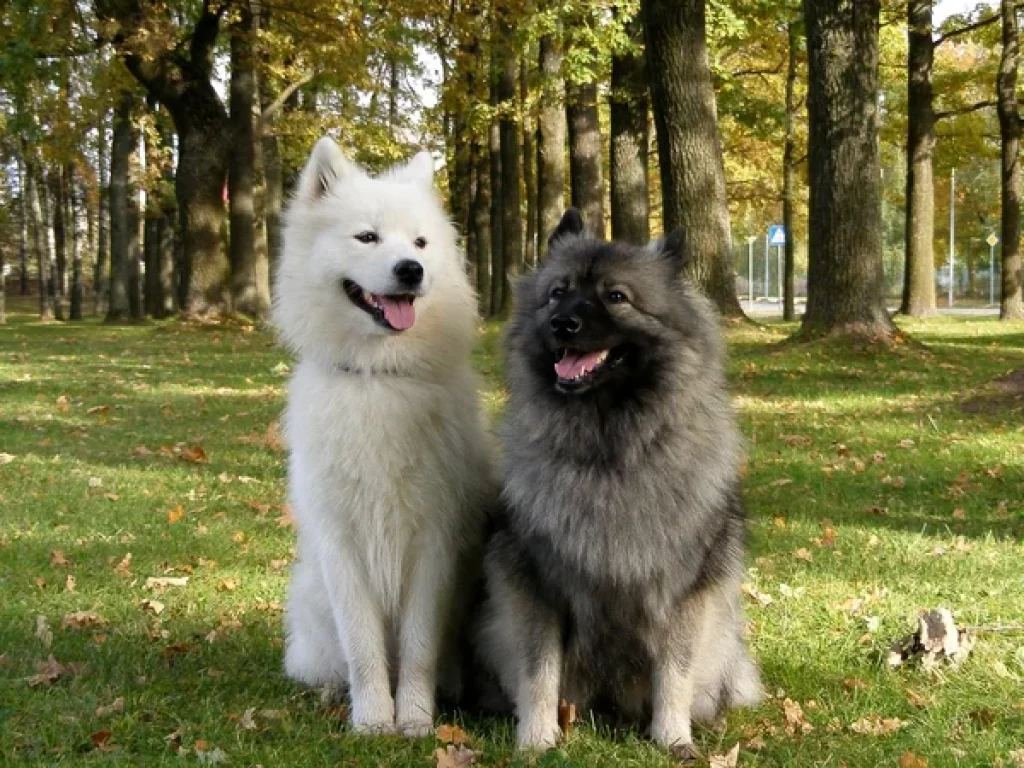 This dog breed is not only loyal, but downright affectionate. Whom they have taken to their hearts, they will not give free again. The Wolfsspitz is a very old dog breed. In the past they were used as guard dogs on farms because of their extraordinary alertness and distrust of strangers.
Even today they still stand their "dog" in this task. His nature makes the Wolfsspitz a perfect companion dog and a great, unique family dog with which you can have a lot of fun. Because he is very intelligent and willing to learn.
CAUTION – the Wolfsspitz is in his element when he can be with his owner. Being alone is not his thing. Alternatively, two of them can be kept so that they distract each other.
The Wolfsspitz cannot do without exercise. He is the perfect training partner for jogging, but also an enthusiastic dog athlete in many disciplines.
You can only score points with this dog. However, you also have to expect a large time investment for the athlete and fight cuddler. It would be best if you are very many at home. The more are around him, the better.
Conclusion
It is not easy to find the right dog for you without having received enough information about it. Therefore, it can only be recommended to get the relevant information before trying to purchase a dog of a very specific breeds.
And also in the process of choosing a purchase, one should get detailed information about this breed from the dog breeder. It is important because no dog likes to be returned. So choose wisely and with a lot of heart!
P.S. Of course, the list is not remotely complete. However, all these dogs are very popular among local dog lovers. Nevertheless, it only gives a rough overview.