One of the main priorities among other safety solutions for your pets is a wireless dog fence that is safe and reliable boundary. Being a curious creature of the nature, dogs like to have throughout freedom to go outside, play, and have fun. But, for that, you must create a fence environment to teach them stay inside and learn the defined boundary too.
Are you looking for a boundary to install, you have to consider a few things in account, which make you assure about the pet safety, cost, shape and size of the fence.
Physical Fence System (Wooden/Metal)
First type, Physical fences made of metal, wood or any other material, is a good solution but it is too costly, time consuming and old fashion. Physical fence is not as good as possible barrier, because the dog can possibly jumps the fence. If the try is failed, it might hurt your pet.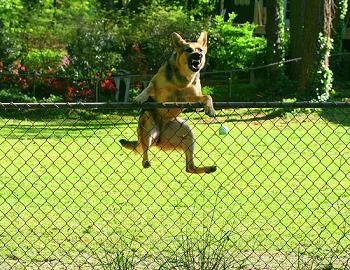 Another drawback to the physical fence is it high cost, and large sized boundary. It also takes longer time and more effort to set up. On other side it will spoiled the overall look of your property.
In-ground fences (Wired/Electric)
The other type, In-ground dog fence, It also called with other names like electric fence and wired fence. In-ground pet fence system is great alternative to physical fence system. However, it also takes a long while to dig and bury the wires underground and very cost effective system.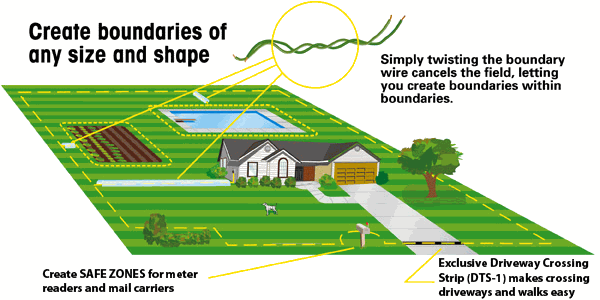 This solution works similar to the wireless fence system, as the dog reaches the boundary it will receive a static correction shock or beep that forbid to cross the limit. This type of fence are best to use if there are trees, bushes, rocks, or non-flat land type in your property. It is also best for you if you required a non circular boundary area.
Wireless Dog Fence
Wireless Pet Fence is 100% perfect solution, which is very simple to install, setup and operate as well as less costly. It has only two parts, a transmitter and a receiver collar, which are extremely easy to set up and install. You only need to adjust the boundary range, and fit the receiver to the collar wrapped around the neck of your pet.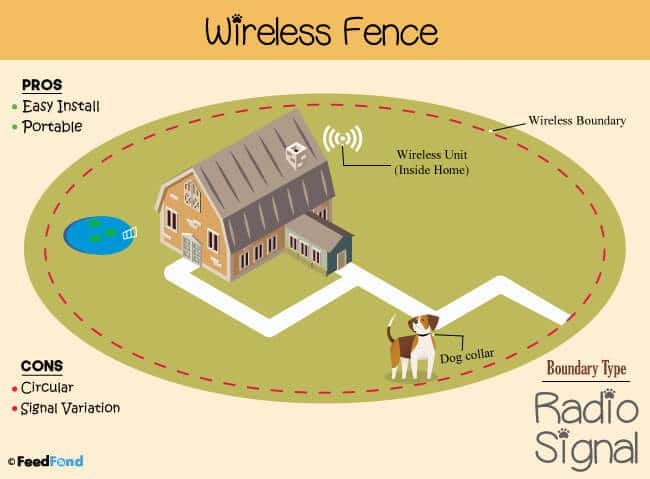 The basic downfall to this system, it works in a circular shape boundary. It use wireless signals to create and control the fence area, So if there is any hindrance, wireless signals could not pass away and fence will not work properly.

£

495.00
1 new from £495.00

£

389.00
1 new from £389.00
Some people think, the wireless fence is a form of cruelty due to electric shocks But i have observed a lot in evaluation tests, have checked out the strength of the shocks. It assured that it is safest and comfortable solution for all types of pets.