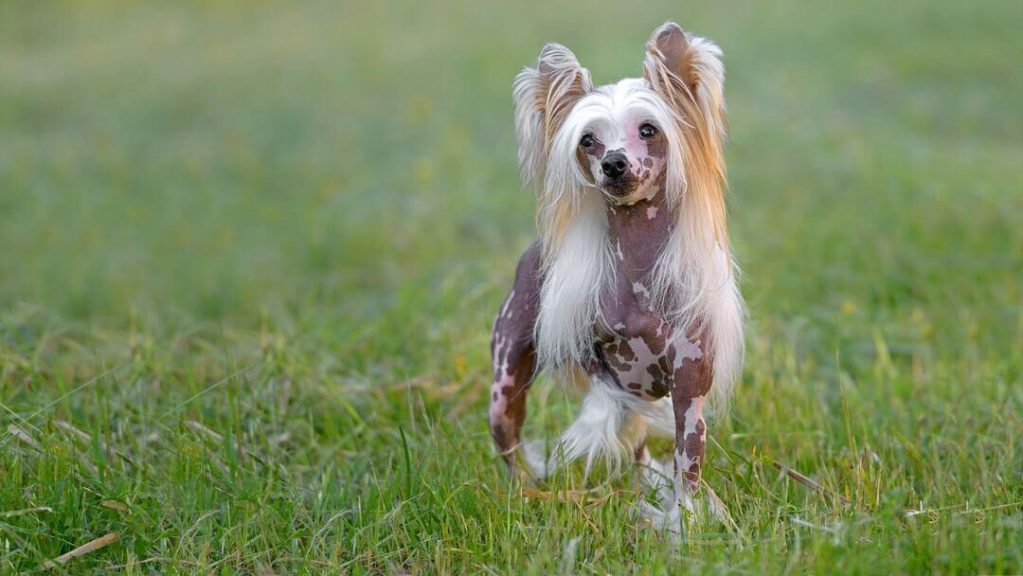 If you ask yourself what the definition of a companion dog is, you will find that it is changeable according to the size of the dog. The Chinese Crested Dog, for example, is a perfect companion dog. No wonder, as he is so small that he literally fits into a handbag and can thus find access everywhere. Certainly, his appearance may be surprising at first.
Strictly speaking, his appearance is reminiscent of a small Pinscher, or a Dwarf Pinscher, but with only a few hairs in specific places. But this little dog also enchants those who at first scrutinise him with suspicious eyes. Like every dog, he loves to please his owner. His cheerful nature makes him easy to like. So why not choose a dog breed that is a little more unusual?
Character of the Chinese Crested Dog
He is lively and graceful. You can have a lot of fun with him, as he learns quickly due to his intelligence. This also helps with his basic training. The term "aggression" is absolutely out of place with him. But he can sometimes be a bit stubborn in training, so he needs the owner's strictness, at least in the beginning. No problem – he just wanted to see who is the master in the house.
He is the perfect companion dog, adapting to his owner's life without any fuss. It does not matter to him whether it is a "one-man-dog-relationship" or whether there are other family members involved. With regard to children, a little care must be taken. Because even if he is small, he wants to be respected by them. If this does not happen, they may grumble at him. He knows how to assert his position.
With regard to his training or his ability to be led by children or senior citizens, there is no need to worry. He can be led by both without difficulty.
The historical background of the Chinese Crested Dog
The Chinese Crested Dog, also called Chinese Chrested, is a very old dog breed, as can be seen from numerous and very old documentations. Already in 1895 he was described very accurately in the "Dogs of all Nations"! Yes, exactly, he was described exactly as we know him today. Without any deviations.
But the breeding of hairless dogs, naked dogs (for example the Peruvian naked dog), has always been controversial – at least in Europe. While the supporters point to the old traditions of this breed and can present a small companion that simply captivates with its cheerful and uncomplicated nature, the opponents dwell on the relatively low life expectancy of this dog breed. Of course, the existing genetic defects and the resulting health problems are also pointed out. In 1999, for example, the German government issued a so-called "Qualzuchtgutachten". This recommended a breeding ban for all hairless dogs.
Unfortunately, the fact is that an existing genetic defect can lead to further defects. The emphasis is on CAN. There have been various breeding results in which several genetic defects came into play, so that the animals were not viable. Such "breeding experiments" are to be counteracted with the "Qualzuchtgutachten" and the associated recommendation.
By becoming members of the VDH, the breeders have committed themselves to the guidelines and the established standard, so that not only further consequential defects, but also hereditary diseases are prevented. Appropriate tests are carried out responsibly in order to be able to act in time.
The colours of the Chinese Crested Dog
The Chnesian Crested Dog is one of the predominantly naked dogs. Therefore, grooming in the classical sense is not necessary. However, good skin care is important. The skin should be checked daily. The few hairs that are on the head, the paws as well as on the tail of the animal can easily be groomed and untangled with a comb / lice comb. If a "new" hairstyle is necessary, a visit to a dog groomer is advisable.
Actually, any colour is acceptable. Colour combinations are also welcome.
What are the requirements of the Chinese Crested Dog?
The most important requirement that an owner of the Chinese Crested Dog must fulfil is a close relationship with his dog. He needs exactly one caregiver on whom he can rely one hundred percent. With this person by his side, nothing can happen to him, right? Of course, this does not mean that he is not open to other people in his life.
He is not really the "one-man dog" that many people see in him. On the contrary, he loves people, especially of course everyone who is part of "his" family. Whether this is several adults or also children and of course he likes seniors is not important as long as they are part of his family.
However, he can sometimes be a little suspicious of strangers. But this is not a disadvantage at all, on the contrary. If he thinks he needs to raise the alarm, he will do so. No, he is not a yapper.
Small but mighty – that could be his motto. He is full of life and has a happy disposition. His urge to move surprises many owners at first. But actually you can quickly get used to it. Walks are just as important for him as working in the dog park.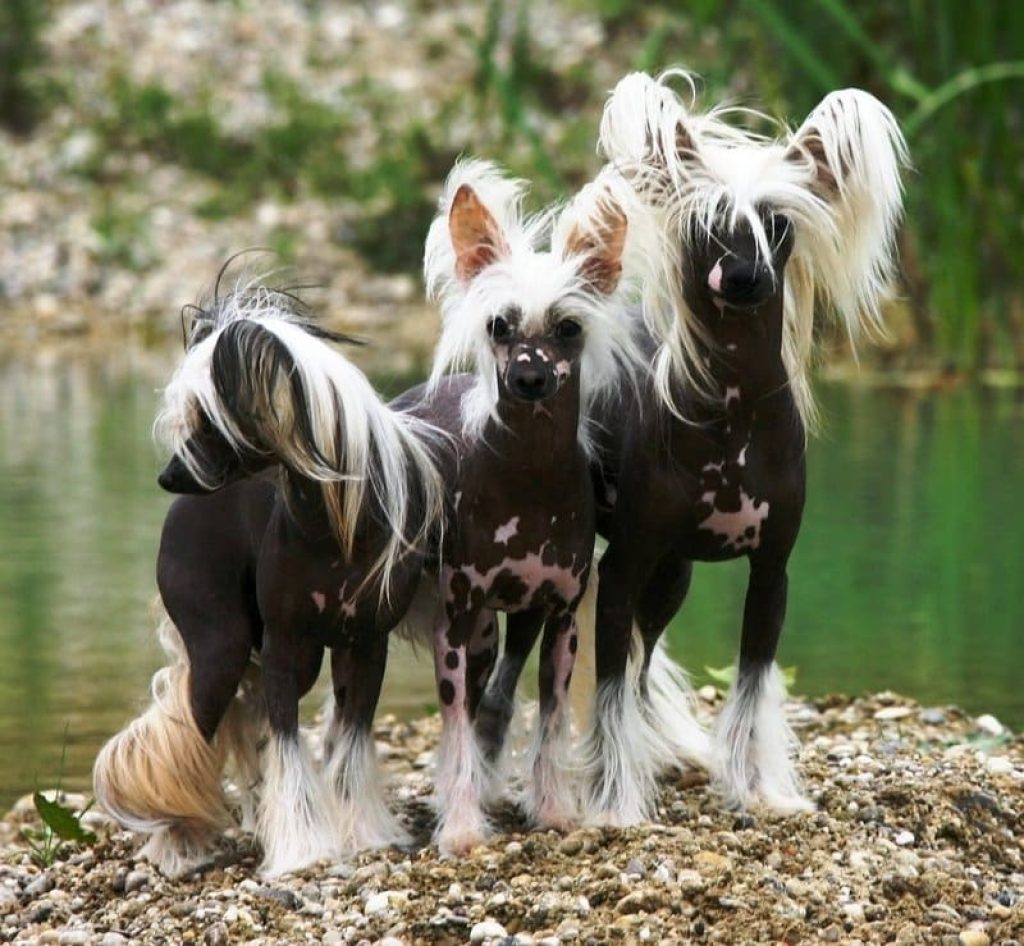 Who would have thought that this little dog is a real bundle of energy when it comes to agility and other dog sports. But it is not a problem for him if he has to stay indoors for a day because of bad weather. Because of his size, you can offer him enough opportunities for exercise there, too. And he can be taught quite quickly how to use the toilet. After all, he is very intelligent.
The Chinese Crested Dog almost does not need grooming. But skin care is all the more important. Especially in summer, it is not only important for light-skinned dogs to use appropriate sun protection. In winter, on the other hand, a warm dog coat is needed.
In spite of all this, however, it is quite robust, so of course it can still go outdoors in winter – just perhaps a little shorter than other dogs. Alternatively, a dog backpack with a thermal blanket can be taken along for such occasions.
Basically, skin care is one of the daily needs, as hairlessness naturally leads to an increased potential for injury. Basically, however, he is a happy little fellow who needs a lot of connection, but does not need to be pampered.
The Chinese Crested Dog and its health
The discussion about the Chinese Crested Dog is part of the overarching discussion about naked dogs. The problem is the fact that hairlessness seems to be only one of several defects. They all go back to the same defect gene.
Among other things, the Chinese Crested Dog is extremely sensitive to various weather conditions. Especially he has to fight with all cool, cold and wet influences. He cannot leave the house without a warming dog jacket in autumn, winter and spring.
In summer, on the other hand, care must be taken to avoid sunburn. Unfortunately, the risk of injury is increased due to the lack of hair. Allergies can also occur more frequently, which can be seen in the skin area.
Furthermore, a special eye disease has been identified as a hereditary disease in this dog breed. This can be detected by genetic testing. In serious breeding, of course, attempts are made to eliminate it from the breeding line.
Advantages and disadvantages of the Chinese Crested Dog
The advantages are obvious: This dog can live in even the smallest flat, does not have to go outside when the weather does not cooperate, because he likes to learn how to use the dog toilet (similar to a cat toilet). In addition, he is usually in a good mood, friendly, and therefore actually does everything for everyone – most of all for his master / mistress.
Fur care is largely omitted, but a little skin care is required.
This dog is easy to handle and can be taken everywhere due to its nature and size.
The disadvantages are also immediately obvious: This dog is not up to all weather conditions. He can handle cold, wet or too hot weather for a short time. But on these days, outdoor excursions should be kept rather short.
Especially on winter days, warming up after the walk is an absolute must. A warm dog coat must also be provided. It is not possible without it. In winter, it is advisable to always have a dog backpack or a dog carrier bag with you, equipped with a warming blanket, to be able to give him the warmth he urgently needs at all times.
The perfect person for a Chinese Crested Dog
also loves the unusual dog
has a heart for small dogs that are loyal to their owner
wants to be able to take his dog with him wherever he goes
owns a small flat or even a large house which he shares with the dog
enjoys the dog's company, perhaps to compensate for a lack of human contact, for example with senior citizens and shy young people.
Buying Chinese Crested Dog puppies
Please always buy the puppy, no matter which dog breed, from a reputable breeder. In this case, reputable means registered with the VDH and adhering to the established breeding standards. The so-called puppy mills should be avoided at all costs. Here the dogs are mass-produced. Whether they are delivered healthy or the dams are well cared for is not important. Only profit counts. To put a stop to this, buying from registered breeders is a must for every responsible person.
Another reason why the reputable breeder is to be preferred is the flood of information he will give to the future owner of his puppies. Whether it is the pedigree, feeding in the early days, fears of losing the puppy, puppy school, proper care and and – no matter what it is, it will be answered without any ifs and buts. And just as important is the certainty that you can always call "your" breeder with questions, even after you have taken over the puppy.
For him, it goes without saying that contact with the puppy is already established before the handover. This way, the "new" people to whom the puppy will then come are no longer quite so strange. This breeder will do everything possible to ensure that his puppy will be happy in its new home.
First equipment for the Chinese Crested Dog
Dog collar
Dog harness
Dog leash, in addition possibly a drag line
Dog jackets for the different weather conditions
possibly a dog carrier or a dog backpack
Water and food bowl, if possible easy to clean
Dog bed / blanket for the resting place
Comb / lice comb
Dog food
possibly toys
possibly treats
Dog food for the Chinese Crested Dog
As long as the food is of good quality, the Chinese Crested Dog does not make great demands on its food. Any food allergies are not known and affect at most individual specimens.
However, it should be kept in mind that the Chinese Crested Dog needs more food than other dogs of its size. The reason for this is heat production. Because of the hairlessness, a large part of the energy consumed is needed for this very purpose. So it is no wonder that this dog somehow always needs a portion more than dogs of comparable size.
FAQ
How much does a Chinese Crested Dog cost?
If you would like to buy a Chinese Crested Dog puppy, this should only be done through one of the two breeding clubs that are affiliated with the VDH. This way you can be sure that you are dealing with a serious breeder who adheres to the standards of the VDH.
At present the price for a puppy of the Chinese Crested Dog is about £800 and more. Decisive for the price is, among other things, the breeding line from which the puppy originates.
Where does the Chinese Crested Dog come from?
Yes, that's right – the name of this dog indicates that it originates from China. However, the Chinese origin still could not be proven. Rather, a 2017 analysis of over 100 dog breeds and 13,000 participating dogs, conducted by a team of geneticists, classified the Chinese Crested Dog alongside the Chihuahua.
This rather suggested a Central American ancestry for him. This should not be surprising. In the countries of South and Central America, the breeding of naked dogs is based on a long and very old tradition
How old does the Chinese Crested Dog live?
The average lifespan of the Chinese Crested Dog is about 10 years.
What is the size and weight of the Chinese Crested Dog?
The male dog presents with a withers height between 28 and 33 centimetres. The females are smaller at 23 to 30 centimetres. The weight is approximately 4.5 to 5.5 kilograms.
How many puppies does the Chinese Crested Dog have?
The average litter size of the Chinese Crested Dog is 4 to 6 puppies. As usual, it should be noted that the size may of course show differently in each litter.
Is the Chinese Crested Dog a hunting dog?
Like almost every breed of dog we find in the world, the Chinese Crested Dog, or its ancestors, has gone through an era where it was not just the cute little companion dog, but where it guarded the house and the adjacent yard.
However, this was mainly a matter of announcing strangers approaching the homestead rather than actual defence. There have also been phases in which he was assigned the task of ridding the house and yard of vermin in the form of mice, rats and similar rodents. Whether there is any truth in the legend that they also hunted vermin from the insect kingdom remains to be seen.
However, since the Chinese Crested Dog became more and more present in dog shows in the 19th century, he will have had nothing to do with his past. Rather, he was courted by "high society" and took his new place as a pure companion dog.
Is the Chinese Crested Dog a family dog?
It was not long ago that this dog was thought to belong to the so-called "one-man dogs", which are fixated on their owner and no one else. However, this is not entirely correct. Certainly, due to their character, they need a fixed reference partner within the family to whom they can turn at any time.
But their friendly, playful nature, their intelligence and not expected robustness is definitely a reason to be able to accept them as a family dog. This dog can show amazing stamina when playing with the children. He also loves various dog sports such as agility, dog dancing and others. So there is never a dull moment with him. And since he enjoys any attention and is literally attached to his owners, he will gladly follow any idea his family has for him.
Can the Chinese Crested Dog be kept in a (city) flat?
A rather small flat does not bother the Chinese Crested Dog. A prerequisite for the agile little fellow is, of course, that he can live out his urge to move in other ways. Whether this is walking, dog sports or running around for hours with the children of the family is not important. What is important is that the urge to move is given an outlet.
Of course, for such a small dog, the city may be something very frightening, very threatening. But the advantage of this dog breed is that you can easily "stow" it in a small dog bag, dog backpack or similar and carry it. In fact, the little rascals enjoy it when the owner carries them very close to him. They have that certain "sticky gene" that always tempts them to get up close and personal with theirs.
Conclusion
The Chinese Crested Dog is a cheerful contemporary with whom one likes to go through thick and thin. This is easy because you can take him almost everywhere with you due to his small size. Certainly, he is high-maintenance in other respects than a "normal" dog. But good grooming only strengthens the intense relationship that is already demanded of him.
This dog is very affectionate and literally clings to its main caregiver. This is also true within family groups. However, one should only decide in favour of the Chinese Crested Dog if one is actually convinced of the breeding of naked dogs per se and accordingly also wants to face possible discussions within the circle of friends and the family.