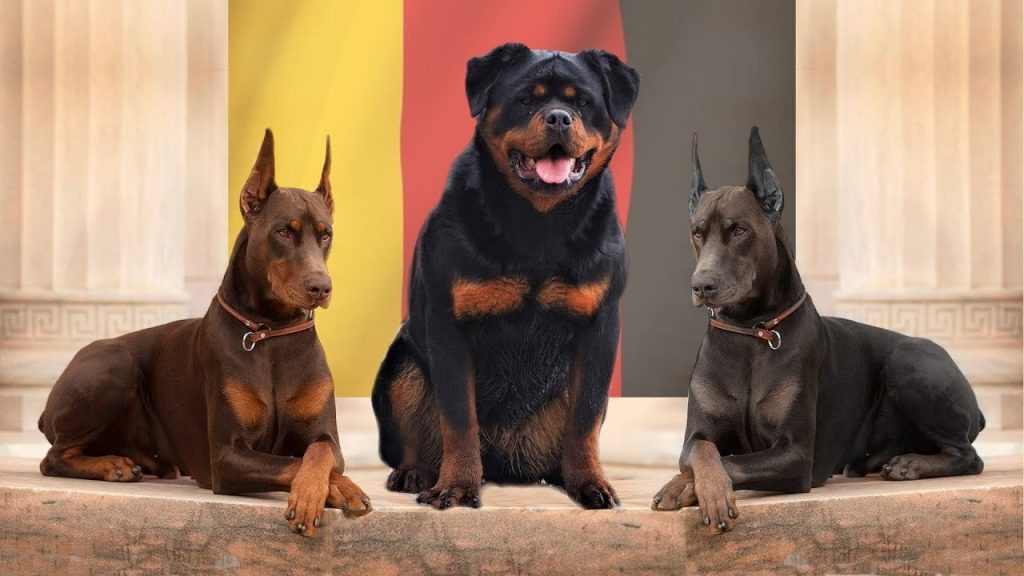 There are dog breeds in every country in the world – including Germany. Sheepdog, Dachshund – yes, some of them are known all over the world. Others you never seem to have heard of.
In a country where so many people have literally gotten on the dog, it is quite astonishing that many breeds are cherished and cared for by their lovers, but otherwise seem to be completely unknown. After all, the dog is and remains man's best friend, without whom many of us could not even imagine a life worth living.
Because there is one thing they all master – they love us humans quite simply and absolutely unconditionally. For this very reason, dogs open doors for so many of us. And that is exactly why we want to address not only the well-known German dog breeds, but also those that are not so much in the limelight.
How many German dog breeds are there?
This question has probably been asked by many dog lovers. The answer is not easy to come by. After all, many German dog breeds have a long tradition, but do not fall into the upper echelons of popularity. No reason to despair, but unfortunately a reason to be forgotten by the majority of dog lovers. In order not to forget anyone, let's briefly list them by name:
Affenpinscher
Bavarian Mountain Sweat Dog
German Boxer
Dachshund
German Bracke
Great Dane
German Wirehair
German Hunting Terrier
German Shorthair
German Longhair
German Shepherd Dog
German Stingelhaar
German Wachtelhund
German Spitz
Doberman
Elo
Eurasier
Large Munsterlander
Hanoverian bloodhound
Harzer Fox
Hovawart
Small Munsterlander
Kromfohrlander
Landseer
Leonberger
Pinscher
Poodle pointer
Rottweiler
Schnautzer
Sheep Poodle
Strobel
Weimaraner
Westphalian Dachsbracke
In total we can look at 33 German dog breeds!
The introduction round
Of course, our German dog breeds should now be introduced shortly, so that everyone can get a small picture of them.
Affenpinscher: He actually has a monkey-like face, which makes him almost irresistible. It is hard to believe that he used to be used as a hunting dog against rats. He is suitable for everyone as he is very adaptable. Children, however, should be a little older.
Bavarian Mountain Sweat Dog: You can guess it – he is almost exclusively given to hunters. He is a true workhorse in his special terrain. He cannot do without work and long walks.
German Boxer: Be careful – with him comes a full-grown clown and joker into the house. This makes him a great dog for the whole family. Despite his fondness for tug-of-war and ball games, he will always keep a watchful eye on the house and yard.
Dachshund: Everyone knows him. Everyone loves him. Because nobody can resist his dachshund look. But beware – although Dachshunds are perfect companion dogs, they are also stubborn due to their actual hunting ability. Consistency is necessary with him in spite of everything, otherwise he is the master of the house.
German Bracke: Another working animal that should not be kept indoors or in the city. The German Bracke is a dog that every hunter and forester would like to have – obedient, willing to work and absolutely persevering.
Great Dane: She is a conspicuous giant among dogs and beautiful to look at. Unfortunately, it pays for this conspicuousness with a relatively short life span and a tendency to various diseases. This breed finds its origin in the dogs of the Alemanni.
Deutsch Drahthaar: Two souls rest in his chest. In the house he is calmness personified and loves his family. But whoever opens the door, immediately has another dog in front of him. He is full of energy and therefore needs people around him who are sports enthusiasts. Whether it's the daily jog, the long bike ride or hours of playing fetch – the Deutsch Drahthaar is always enthusiastic and guaranteed to be the last to (reluctantly) stop this activity.
German Hunting Terrier: He completely falls into the category "small but mighty". He shows everyone what small dogs can accomplish. But be careful – stubborn! As affectionate, lovable and devoted to his master as he is, if there is no adequate task in sight for him, one should rather avoid this working animal. He needs his working area to live.
German Shorthair: He also belongs to the pointing dogs and is related to the German Bracke. Thus he too prefers to be found on the hunt or in the territory. If you cannot show this, you should still be able to satisfy this dog's pronounced urge to move.
German Longhair: Another pointing dog, but also an all-rounder. They feel at home everywhere, even in the water. Certainly the hunting ground, the forest is their preferred place to stay, together with their human. But they are also enthusiastic about sporty people who give them the opportunity to run outdoors a lot according to their temperament.
German Shepherd Dog: Every dog lover in the world knows this dog. As a guard and service dog, he does his duty fearlessly and always tirelessly. He is absolutely reliable. But he is just as reliable as a family dog, because he loves his pack above all else. And he knows exactly how to keep it together. No one can hold a candle to this dog breed so quickly.
Deutsch Stichelhaar: This dog is the oldest pointing dog breed in Germany with rough hair. It is usually very aloof and only conditionally obedient. He is preferably given into the hands of experienced hunters who will get along well with his headstrong way of working. He is a hunting dog through and through.
German Wachtelhund: This dog has power, which he likes to demonstrate with perseverance. He does not only need exercise. He needs a real task. His urge to move, coupled with his strong hunting instinct, means that he can become a runaway if the property is not properly secured. By the way, he is also a gifted swimmer who virtually demands his excursions to the water.
German Spitz: Every Spitz is loyal, extremely affectionate and loves to please his owner. They are very docile, so the appropriate dog sports disciplines are made for them. The Spitz comes in 4 varieties: Wolfspitz, Large Spitz, Medium Spitz and Miniature Spitz. The latter is the most popular. Whether it is a family or a single dog owner is irrelevant for the dog. The main thing is that he has found his "life partner".
Doberman: Yes, he can be scary. No wonder, because he was originally bred to be the perfect guard dog. Depending on the federal state, he may even be on the list of dangerous dogs. However, it is often only the exterior that is seen. He can also be extremely sensitive and fond of children. He prefers an active family that likes to cuddle with him and still has enough dog knowledge. Of course, he will still guard the house and yard.
Elo: The Elo has not yet been recognised by the FCI. No wonder, as the dog breed first appeared in 1987. It is a mixed breed of Eurasier, Chow-Chow and Bobtail. The result is an uncomplicated, docile dog that seems to get along with all four-legged and two-legged friends.
Eurasier: Strictly speaking, the Eurasier is a mongrel, because in its origins there are not only Chow Chows, Samoyeds and Wolf Pointers, but they dominate. Therefore, Eurasiers can already be recognised by their original appearance. However, they also require intensive grooming. They are both intelligent, fond of children and extremely friendly. By the way, the blue tongue, which they got from the Chow-Chow, is remarkable.
Large Munsterlander: With the Large Münsterlander we finally find a hunting dog that is also suitable for beginners. Certainly he has a lot of energy, which is why he is very persistent. But this can be compensated by the owner with the appropriate condition and enough time to roam the surroundings. This dog is very obedient, but has a strong hunting instinct.
Hanoverian Bloodhound: He is determined and has the strength and endurance to track down even hard-to-find, wounded game. As a hunting dog he is an asset for every hunter / forester. As a pure family dog, however, he is not suitable, as this type of keeping does not meet his needs.
Harzer Fuchs: A herding dog as it is written in the book. It is therefore best to give him the opportunity to work with herds or to herd. If this is not possible, he can be kept happy with mantrailing and agility. So far he has not been recognised by the FCI.
Hovawart: He belongs to the large to very large dogs. 70 centimetres height at withers is normal for him. His nature is characterised by a pronounced protective instinct. He belongs to the self-confident dogs who do not hesitate to use their abilities when necessary. Certainly he is a fantastic watchdog. However, he can easily fit into any sporting family.
Kleiner Munsterlander: He is the dwarf among the German pointing dogs. On the hunt he always presents himself in the best light. If you cannot offer him a hunt, a sporting family is a very good alternative. They can provide him with the exercise he so desperately needs every day.
Kromfohrlander: Watch out, this is a "wrap your fingers around" alert. This charming little dog knows how to make himself popular. Young and old alike fall for him. Charming and affectionate – that's how everyone likes him.
Landseer: They belong to the large to very large dogs and are often affectionately called "little cow", because most representatives are black and white. They have a big heart, are mega-curious, with a little mischievousness in their neck and extremely gentle. They are just as suitable as a rescue dog on the water as they are as a therapy dog. Any family with a large garden can only benefit from them.
Leonberger: Huge he is, the Leo, with a slight resemblance to a lion. As a watchdog he already inspires respect in strangers by his appearance. But he also has a very gentle, familiar side. Nevertheless, he should only be at the side of people with dog sense.
Pinscher: Here comes pure energy! He always seems to be in a good mood. As a family dog, he will bring plenty of exercise of every kind.
Poodle Pointer: A cross between the Poodle and the Pointer, here you see a hunting dog that brings not only self-initiative but also great endurance. He also loves to swim.
Rottweiler: Yes, he is readily associated with the list of dangerous dogs. But he only needs socialisation and basic training, then living together with humans works out fantastically. He is gladly taken into the service of the police or customs. His versatile potential makes it possible. He is best with people who have experience with dogs.
Schnautzer: He is a great companion dog who can adapt to young and old. And looks unique with his special beard. They are smart, obedient and also alert, which makes them good watchdogs.
Sheep Poodle: This rare dog breed, native to Northern Germany, is not recognised by the FCI. It belongs to the old German shepherd dogs. Therefore, we are dealing with dogs that belong in experienced hands. The Sheep Poodle has a pronounced herding urge that should be followed. This urge is responsible for the fact that the majority of litters are only given to people in the trade, sheep breeders, shepherds and similar professions. Because only here can it really be utilised to the full.
Strobel: No, actually it is an old German shepherd dog. But he looks like a little imp with a mischievous look in his eye. He is still happy to perform his original tasks. If he cannot do this, it makes sense to give him a concrete structure that takes into account both mental and physical exercise as well as rest periods. It is not a dog for beginners. By the way, the Strobel is of South German origin.
Weimaraner: Although his grey coat seems rather inconspicuous at first, one can only like the Weimaraner because of his floppy ears. As a pointing dog, he loves exercise and needs sporty owners who are just as persevering as he is. Playing and family contact are his favourite "hobbies".
Westphalian Dachsbracke: It measures only 30 to 38 centimetres and yet it is a hunting dog through and through. She is agile and extremely persistent. Whoever chooses her and is not a hunter should be sporty and be able to spend a lot of time in nature with her. This dog will follow its owner wherever he goes and will quickly integrate as the new centre of the family.
What is the most popular German dog breed?
The most popular German dog breed is the German shepherd, closely followed by the dachshund, dachshund, poodle, Rottweiler and the German boxer. To be sure, the order may change a little each year. And yet they are all always in the top ten.
That the German Shepherd is so popular is actually not surprising. He is quite present in the media, both in normal reporting and in feature films and series. So you get to see him quite often and can convince yourself of his abilities. In suburbs as well as in the countryside, however, he is not acquired exclusively as a family or companion dog. Protecting the family and property is also much easier with a German Shepherd at your side.